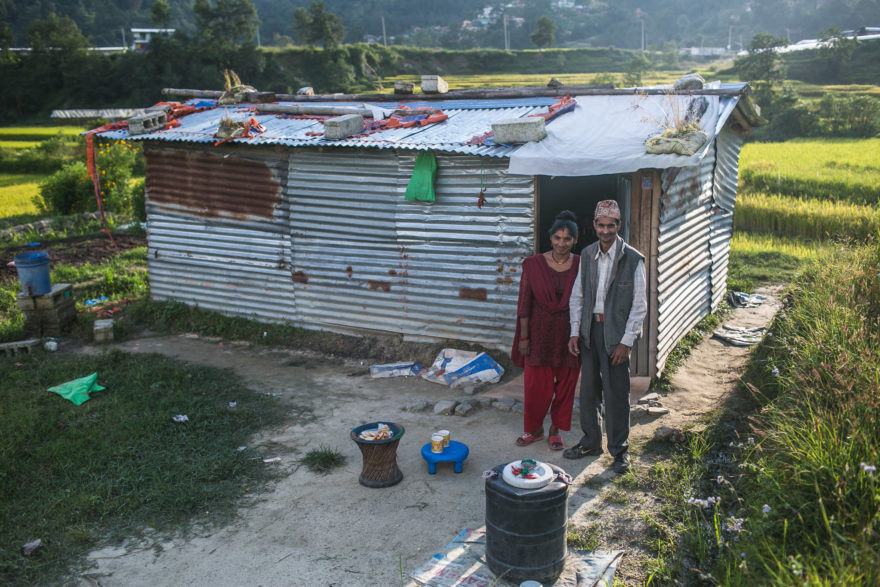 THE STORY
I met Narayan in 2015 after the earthquake. That's him sitting with his wife Saraswati, daughter who is 14, and son who is 8 now. Narayan works as the kitchen staff, at the guesthouse that I stayed in during the disaster relief. Narayan is an honest man, living a simple life. It's been two years since I've seen Narayan, and he was the first to greet me when I came back here again. But this time things were different.
Narayan left his apartment due to financial issues, since the Earthquake many locals suffered a low income and poverty. With the help of a friend from Holland, they took a small loan and purchase some materials, which were not enough to build a proper home with land, just a zinc shelter and a septic tank. Narayan only earns about RS9,000 (US$90) a month.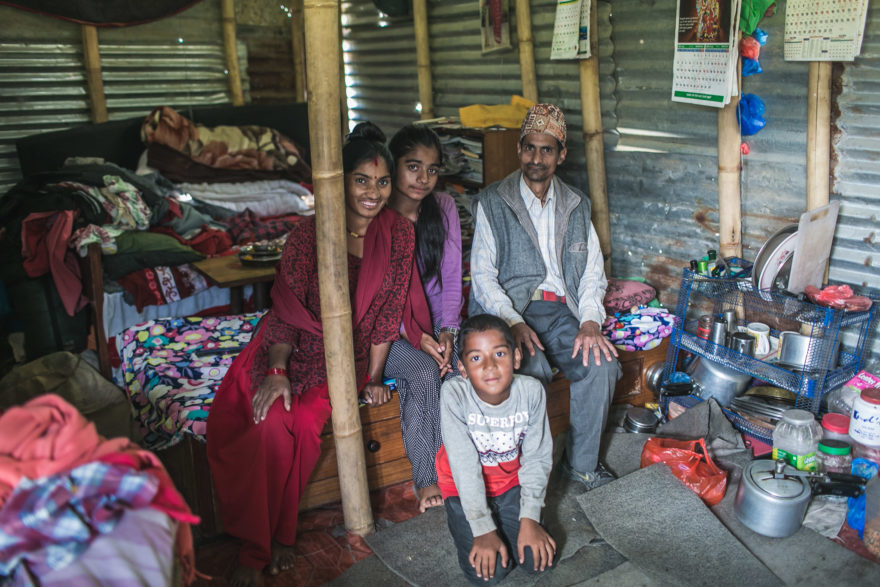 The girl sitting beside him is his daughter, Ashima. She is 14 now. A few days ago, I met her for the first time and we spoke for a little while, she was looking very sad and numb.
"Do you go to school here?"
"Yes I do.. a school close to the city"
"And your dad, is he okay with this? How did you end up living here?"
At this moment tears started flowing down her cheeks.
"We are very lucky that my best friend's dad helped us. We use to play as kids, we grew up together and we are very close. He gave us a part of his land here and he has been very kind to us. It's been very hard for my dad, he earns very little, and we can't even afford to pay for my school fees.
"I would like to help build you a better home, can I do it here and rebuild this place?" Her eyes glanced directly at me by now. "Yes sir, please if you can help my dad. My education is being sponsored now by a very nice lady from Holland, but we cannot afford a new brick house. This is a good family who has lend us this little land, and I hope you can help my dad too."
"I will see what I can do okay." I gave her a pat of her back, and left knowing that I will build them a new home. This family deserved it. Ashima is an intelligent girl, spoke English well and has a bright future.
Follow #Home4Ashima
---
THE IDEA
The idea is not just to build a brick house but comfortable home, with a sustainable income for the family. We have a few phases of this build.
Phases:
1st Phase – To build a concrete house, 2 rooms, 1 living, bathroom, wash area. (US$4500)
2nd Phase – Power and water. Power grid would be with solar panels. (US$1000)
3rd Phase – A sustainable income (Homestay rooms/ Traveler Projects/ Urban Farming) (US$2500)
Since Narayan has the experience working in a guesthouse (The Yellow House) for many years, he will be able to manage travellers looking for a peaceful quiet farm house. Maybe Ashima's Homestay?
Currently they live in a metal zinc and tarp shelter, which is leaking, with no electricity, dark and dusty, no proper water system, no proper bathroom or living space. Ashima and the mother has to shower outside in the open space. All their belongings are just stuffed into this small 6 x 10 space.
CURRENT PHASE (1st Dec Nov 2017) Updated.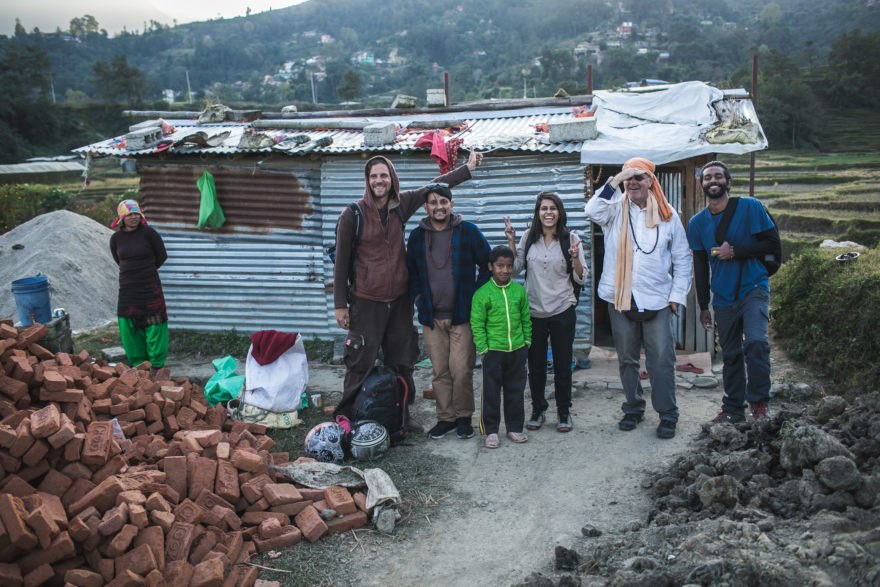 It's been exactly a month now!
We have walls coming up and looking a little more like a house now.. so we are happy and high spirited! And knowing there is still lots to do, many little things to work out. Next would be completing the walls, windows, doors and roofing! Rock foundation is all done with 25 tons of mountain rocks!
And my good friend Dan Pilling is here! He made it all the way from UK, with a few flights getting into Kathmandu. So great to see him again, and working on the build site. With Shamanth Gowda and Swathi Suvarna helping with the design.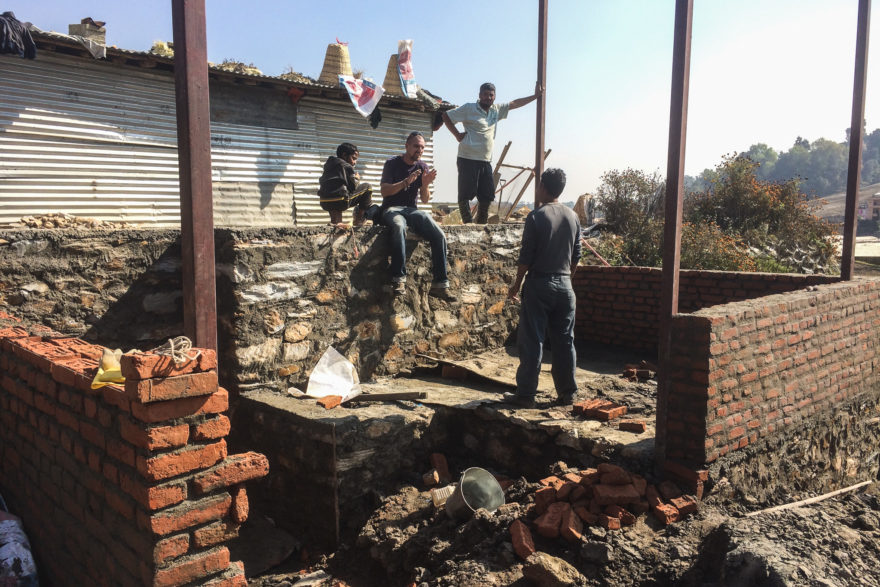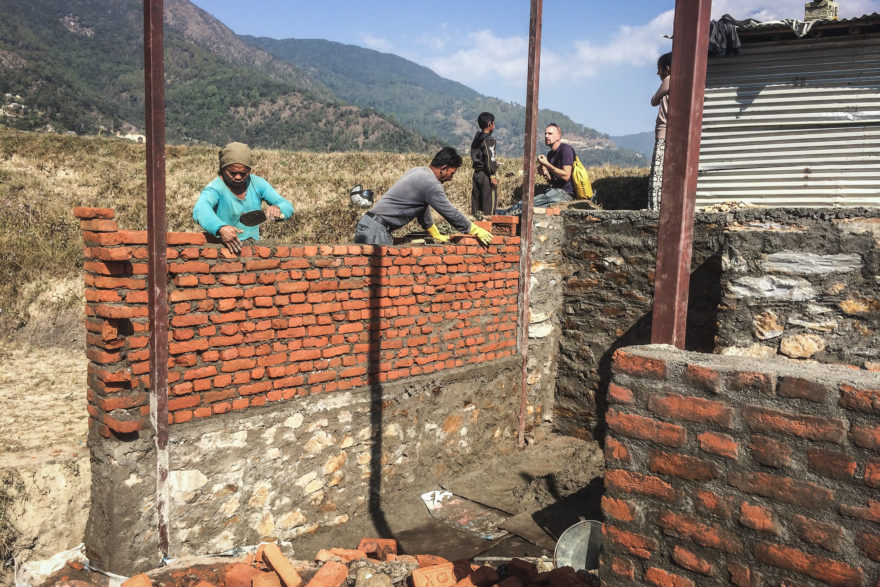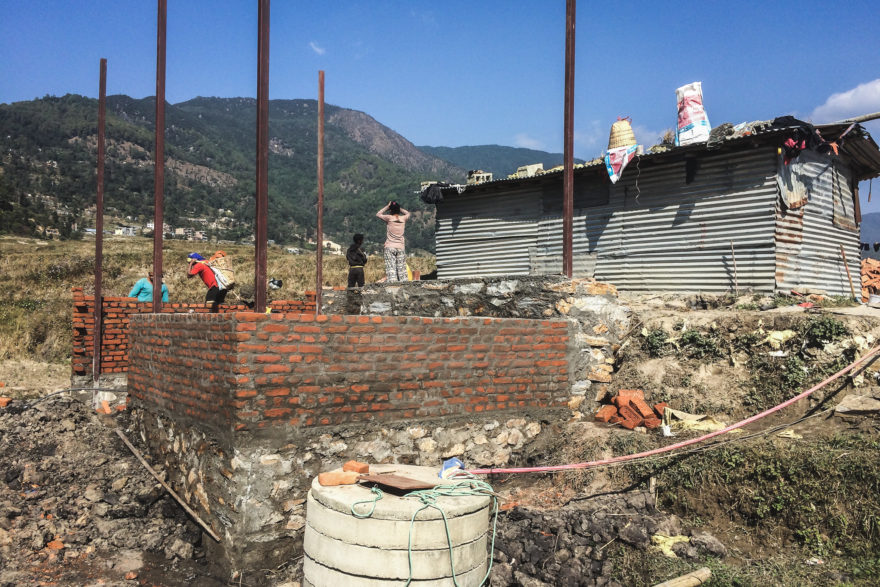 Those who supported this idea, thank you, big hugs! We have raised US$3245 so far, but still way behind the goal of US$5500, a min to complete this house by end Dec. As we are at the cross roads of no turning back now, as the current shelter will be taken down in a few days and the family will move out living in a tent (cow shed) for a few weeks. I am feeling a little nervous too.
So please SHARE this, DONATE, support are you will and can… WINTER is coming. Your clicks matter.
---
THE GOAL
To provide Ashima and her family of four a living space they can call home, a sustaining income for a comfortable life. To raise US$5000 or more to complete this project by end of December/January 2017.
WAYS TO DONATE:
1. Send funds Directly to my Paypal account via paypal.me/RideOfLights (mobile friendly)
2. or for International Malaysian Bank Transfers:
Bank Name: Malayan Banking Berhad (Maybank)
Bank Address: 66 Jalan Maarof, Bangsar Baru, Kuala Lumpur, Malaysia. Postcode: 59200
Beneficiary/Personal Name : iMKIRAN Nation
Address: 14 Bangsar South, Kuala Lumpur, Malaysia. Postcode: 59200
Account Number : 514123632561
Swift Code: MBBEMYKL
3. Crowdfunding Page:
Let's build a home! Click link to see crowdfunding page with TOTAL funds raised so far.
Please SHARE!
---
Note: Donation receipts for tax returns/deductions/refunds can be provided. Email:kirankreer@imkiran.com