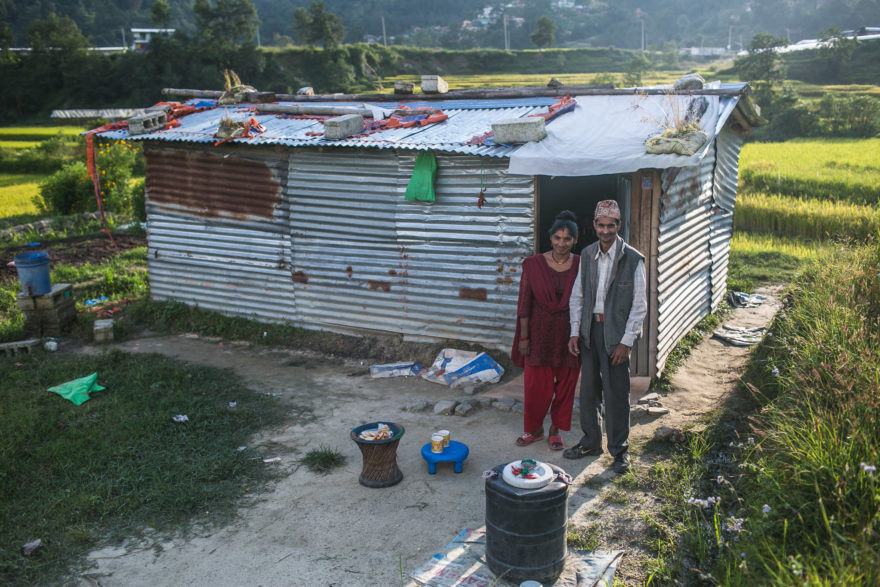 THE STORY
October 2017 – It took me 12 days since I've crossed the border of Banbasa in the west side of Nepal, my ride started after I left my friends in Manali, India and I made way towards Kathmandu. Strangely enough after 18 months of riding across India, this new space was still challenging to me.
I met Narayan in 2015 after the earthquake. That's him sitting with his wife Saraswati, daughter who is 14, and son who is 8 now. Narayan works as the kitchen staff, at the guesthouse (Yellow House Guesthouse) that I stayed in during the disaster relief.
Soon I found out, Narayan left his apartment due to financial issues, due to the Earthquake many locals suffered with lower income, basic needs and poverty. With the help of a friend from Holland, they took a small loan and purchase some materials, which were not enough to build a proper home with land, just a small zinc shelter and a septic tank. As I was told, Narayan only earns about RS9,000 (US$90) a month as a waiter here.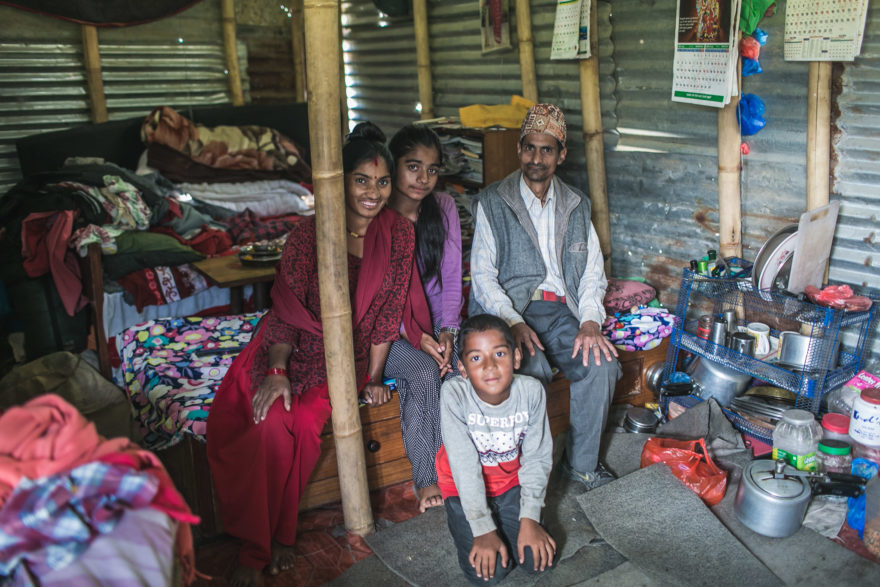 After a few days here in Kathmandu, I made a visit to Narayan's home. I saw a little zink shelter, leaking with drips of water, with no plumbing, no toilet or bathroom. The girl sitting beside him is his teenage daughter, Ashima. She is 14 now. I met her for the first time and we spoke for a little while, she was looking very sad and numb.
"Do you go to school here?"
"Yes I do.. a school close to the city"
"And your dad, is he okay with this? How did you end up living here?"
At this moment tears started flowing down her cheeks.
"I would like to help build you a better home, can I do it here and rebuild this place?" Her eyes glanced directly at me by now. "Yes sir, please if you can help my dad. My education is being sponsored now by a very nice lady from Holland, but we cannot afford a new brick house. This is a good family who has lend us this little land, and I hope you can help my dad too."
"I will see what we can do okay." I gave her a pat of her back, and left knowing that I will build them a new home. This family deserved it. Ashima is an intelligent girl, spoke English well and has a bright future.
Follow #Home4Ashima
---
THE IDEA
The idea is not just to build a brick shelter but comfortable home, with a sustainable income for the family. We have a few phases of this build.
Phases:
1st Phase – Materials for brick house, 3 rooms, 1 living, bathroom, wash area. (US$7500)
2nd Phase – Roofing, windows, doors. Water source. Power grid would be with solar panels. (US$4500)
3rd Phase – A sustainable income (Cooking classes/ Homestay) (US$1500)
Since Narayan has the experience working in a guesthouse (The Yellow House) for many years, he will be able to manage travellers looking for a peaceful quiet farm house. Maybe Ashima's Homestay/Cooking Classes? We will share this idea soon after the house is completed.
Currently they live in a metal zinc and tarp shelter, which is leaking, with no electricity, dark and dusty, no proper water system, no proper bathroom or living space. Ashima and the mother has to shower outside in the open space. All their belongings are just stuffed into this small 6 x 10 space.
CURRENT PHASES (3rd Feb 2018) Updated.
It's been 3 months since we started this little idea, from a little tin zinc shelter, ideas that brought many together and it grew to something we all never expected!
A Home for Ashima is nearly ready!! They family will move in very soon in this next few days… BUT… what's missing?
There is one more thing remaining for this phase, WINDOWS & DOORS… so we need your support here, this is for my Malaysian friends/family, since this is also about Malaysian wood and to all my travelling friends and family.
We have not much funds left for the wood… yes. That's our reality here… and they cannot install them if we don't pay the suppliers/carpentar. And the family cannot move in without doors or windows. Reality too. (They still live in the barn with the cows)
Balance funds needed to pay wood carpentar: $1225 (RS126,168 / MYR4770). 7 window panels, window glass, 6 doors, 1 main door. So my personal request and wishes to all of you, my friends, my universe, if each of you lovely souls donated $5/$10, we can get it done in 2 days and finally give this family a HOME!
Donate one more time, please tell another friend about it… we have about a total of $3300 more to raise to get this done all phases.
---
THE GOAL
To provide Ashima and her family of four a living space they can call home, a sustaining income for a comfortable life. To raise US$13,500 or more to complete this project by end of January 2018.
WAYS TO DONATE:
1. Send funds Directly to my Paypal account via paypal.me/RideOfLights (mobile friendly)
2. or for International Malaysian Bank Transfers:
Bank Name: Malayan Banking Berhad (Maybank)
Bank Address: 66 Jalan Maarof, Bangsar Baru, Kuala Lumpur, Malaysia. Postcode: 59200
Beneficiary/Personal Name : iMKIRAN Nation
Address: 14 Bangsar South, Kuala Lumpur, Malaysia. Postcode: 59200
Account Number : 514123632561
Swift Code: MBBEMYKL
3. Crowdfunding Page:
Let's build a home! Click link to see crowdfunding page with TOTAL funds raised so far.
Please SHARE the love!
---
Note: Donation receipts for tax returns/deductions/refunds can be provided upon request. Email:kirankreer@imkiran.com